VISTA Wraps Up Service Year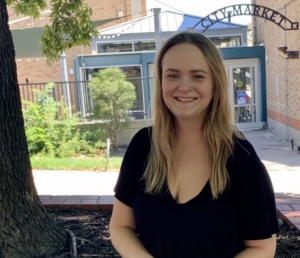 Our VISTA's service year has come to an end! Over the past year, Falon Runnebaum's work has focused on housing and childcare which are crucial for developing a strong and robust workforce. Falon has been an integral part of the Stafford County Child Care Committee. From assisting with the initial county-wide childcare needs assessment to becoming familiar with KDHE regulations, Falon has been willing to dive in and work on whatever the committee needed. During her service year, she developed the branding for the Committee, helped with various social media marketing campaigns, and wrote and was awarded a $5,000 grant to help evaluate and modify potential daycare locations.
Falon has also played an important role in housing. She helped research and create a Housing Assessment for Stafford County. Her preliminary work on the housing assessment was used by staff to create a funding proposal which successfully received a $350,000 allocation from the Stafford County Commission. Additionally, Falon helped to develop and translate documents and marketing materials into Spanish for our new Prairie View Rental Housing.
Despite most of Falon's work being done behind the scenes, you've probably seen one piece of work that she has done. On September 11, 2021, Falon spent her day repainting the firetruck in Brown Memorial Park and assisting with repainting the teeter-totters.
Our office is appreciative of all the time and energy Falon put in to help make Stafford County a great place to live, work, or play!