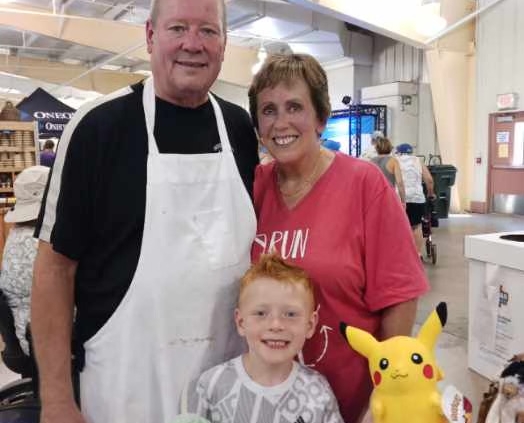 You cannot go to the Kansas State Fair without entering the Pride of Kansas building and seeing the crowds line up in front of the Wheatland Café booth.
Sure, you can check out the butter sculpture and the giant pumpkins, but really the main star in that building is Shannon and Darrell Bauer's food creations.
"We do about 5,000 apple dumplings and 3,000 bierocks," Shannon Bauer said.
The Bauers do things the hard way – from scratch. Which means, it is really good food.
They, of course, run the Wheatland Café in Hudson, which is open the first and third Sundays of each month – as well as a sizeable catering business.
At the café in Hudson, it's not unusual for the Wheatland to draw in customers from miles around on the Sundays they are open. Folks line behind the buffet bar and the line snakes out the building and sometimes down the sidewalk.
The Wheatland lines at the State Fair are no exception.
The Bauers draw lots of hungry people to their booth for the 10 days the fair is in operation.
"We do this to make a living, that's a big part of it," Shannon said. "Plus, Darrell likes having that break from the everyday things. He likes going to the state fair and seeing all the people and reconnecting with people he's known for years. Plus, we meet new people."
They've met Kansas governors who have lined up at the booth.
Happy customers tell them they've made buying food at the Wheatland part of their fair tradition each year.
"We start making lists and gathering foods the first of August and then, we start cooking our meat, like for our roast beef sandwiches," Shannon said. "We cook it ahead of time and then, as soon as it's cool, we bag it off into gallon baggies and freeze it. We do that the second week of August. We cook on and off and freeze. Those are the things we do ahead of time."
Then, they live at the state fairgrounds the entire time of the fair – in two RV campers, one for the men, one for the women.
"Our help stays with us, as well," she said.
"My schedule is that I go to work at 5 a.m. and work until 7 at night," Shannon said. "Darrell comes in at 7 a.m. and works until 10 at night. The building closes at 9 pm and it takes about an hour to clean up after that."
How many people do they serve each day?
"I couldn't even tell you," she said. "Sometimes, they are lined up clear down the middle aisle to the other end of the building. It is mind boggling. It never amazes us every year to see people waiting in lines that long."
The Bauers often have the same people helping run their booth, year after year.
They have 15 employees.
"We haven't had to hire anybody new for quite a while now," she said. "I mean it's wonderful to get the same people back each year. For years, we had a family drive out from El Paso, Texas and help."
It's a team working like clockwork to make to make a little bit of Stafford County heaven possible at the fair.
The most popular items are, of course, the hot roast beef sandwiches and apple dumplings, a la mode.
But then, they also do a hefty business in cinnamon rolls, coffee, cherry and peach cobbler and bierocks.
"Bierocks are big sellers but hot roast beef, I don't know why because that is the easiest thing to make – that's our biggest seller," she said.
As a longtime fair-goers know, you can't go wrong with a hot roast beef sandwich. Sure, there are the Methodist Church chicken and noodles, the Lady of Guadalupe enchiladas and Pronto Pups at every turn, but the hot roast beef sandwiches are always a winner.
Think of it, after one of those long afternoons of walking around, seeing exhibits, people watching, buying gizmos and coming into the Pride of Kansas building. You finally get a chance to sit down and have something warm and nurturing to eat.
It goes down mighty fine with a hot apple dumpling and a dollop of ice cream.
"The state fair always helps our business as far as catering goes," Shannon said. "We have booked so many weddings and funerals from our state fair business because people from all over the state come there.
"It's good for us as we make our living. I mean, it's really exciting and a lot of fun."
https://staffordecodevo.com/wp-content/uploads/2023/09/Resized_20230909_150339_416305647865043-e1694811700251.jpg
289
338
staffordecodevo
https://staffordecodevo.com/wp-content/uploads/2021/03/Logo-Light-Green-3-Copy-2-300x76.png
staffordecodevo
2023-09-15 21:11:29
2023-09-15 21:12:04
Apple dumplings and hot beef sandwiches are Stafford County staples at Kansas State Fair