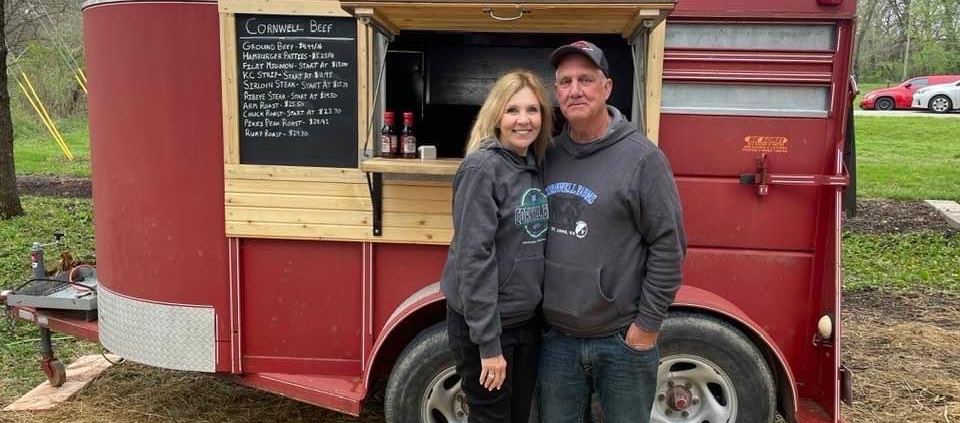 By Beccy Tanner
For four generations, the Cornwells of Stafford County have farmed and raised some of the top beef cattle in Kansas.
Now, it is the fifth generation – the grandchildren who range in ages between 15 and 6 – who are taking the next steps for the future of the family name.
In the process of learning about science and entrepreneurship, they have created Cornwell Beef – a website and business that markets the family's pasture-raised beef.
"We're a fourth-generation family farm," said their grandmother, Lisa Cornwell. "This came about as an entrepreneurship project. I love everything about kids learning entrepreneurship."
And so, they began an experiment – the timing was perfect. It was right after the Covid pandemic shut almost everything down.
The grandchildren had plenty of time on their hands.
Melissa and Jake Cline run Cornwell Beef East along with their sons – Jack, 15, and Kolt, 13, in Eudora, KS. They have a freezer for beef pickups at Happy Valley Farm in Desoto.
Joe and Lisa Cornwell's grandchildren who help are Gentri Bright, 14; Hadley Bright, 13; and Victor Cornwell, 11; Tianna Cornwell, 6; and Dawsyn Long, 6.
They also have help with a Great Bend delivery crew with Kambri Klug, 8; and Kenton Klug, 7.
The enterprising students first purchased meat from Walmart, Dillons, and Target –as an experiment. They needed some test products.
"We did kind of a science project, and we measured the grease that came off the meat – and its color and clarity," Lisa Cornwell said. "Then, we compared that with ours, which is a lot leaner."
The children then began talking about what a business would look like – what its name would be – Cornwell Beef, of course.
"We learned about labeling and how we had to have a USDA facility to have the meat processed," Cornwell said. "The bigger kids update the website and do the inventory. My littles – and sometimes the bigs, because they can drive—deliver within the area."
Cornwell Beef has developed a few food products in addition to their meat cuts – such as Pat's Regular Beef Jerky in Liebenthol made with Cornwell Beef. Another product, Stroot's Beef Sticks of Goddard is also made using Cornwell Beef.
And this next summer, there are plans to introduce a roast sauce that will make a roast taste more like brisket. They also have hot dogs that are becoming increasingly popular.
The family sells many of their products at White's Foodliner in St. John and Main Street Deli in Stafford.
"Most of our sales are straight off our website," Lisa Cornwell said. "And we do the home delivery straight to the porch. Hunting season is a great time of year for us, the hunters like locally raised meat while they're here and enjoy taking them back home! We are going to try and expand our retail market into the rest of White's stores later on.
"Right now, I'm out of steaks but will pick up another beef on Monday. The hunters take a lot of the steaks back home."
Cornwell Farms began in 1917 with Courtney and Naomi Cornwell. Their only son, Jack, began the second generation on the farm when he married June. The couple had three children – Rick, Martha and Joe.
The third generation of Cornwells on the farm were Rick and Gayle who had three children – Jeff, Casey and Bethany. Joe and Lisa had four children – Melissa, Cami Jo, Ty and Marci.
The fourth generation continues the farming and Angus beef production.
"Joe and Ty farm together," Lisa said. "Gentri, Hadley, and Victor update the website and do inventory. Gentri swaths hay and Victor is a little cowboy, he works cattle and farms. The littles enjoy helping with delivery.
So, what makes Cornwell Beef different?
"We're a small family farm," Lisa Cornwell said. "We have a herd of 500 cows. We butcher two or three cows a month for the business. We are not doing anything crazy. We know each of these cows. We treat them like our kids.
"Our cows are on pasture until we're ready to butcher."
The cows live on grass from May through October.
In late fall and winter, the herd lives on rye pastures and are fed ensilage, corn silage and ground hay.
"We only cut prime steaks which are like steakhouse steaks," Lisa Cornwell said.
Which is why their Stafford County beef is beginning to be a sought-after commodity all across the state.
It really is about the beef.
https://staffordecodevo.com/wp-content/uploads/2023/11/original-7B538EF1-257A-42F0-8F38-8C1DB1D218C4.jpeg
720
960
staffordecodevo
https://staffordecodevo.com/wp-content/uploads/2021/03/Logo-Light-Green-3-Copy-2-300x76.png
staffordecodevo
2023-11-20 14:10:29
2023-11-20 16:05:01
Cornwell Beef is all about the beef – and family