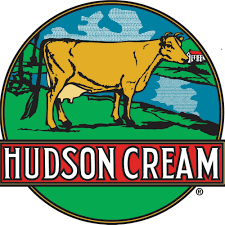 By Beccy Tanner
When Darrell Bauer, owner of the Wheatland Café in Hudson talks about the quality and uses of Hudson Cream Flour, his voice takes on that enthusiastic tone of a loyal fan.
"There's all kinds of flour out there but Hudson Cream never fails," Bauer said. "And, they have a lot of good products – a biscuit mix, gravy mix that's really good."
But then, he starts listing all the dishes he uses the flour in:
"I use it in our cinnamon rolls, bierocks, for making gravy, breading chicken, chicken fries … I've used other self-rising flours before when I was out, and it just doesn't do the same. I can't tell you what they (Hudson Cream) do differently, but the food is always good."
Stafford County Flour Mills Company in Hudson, which has produced Hudson Cream Flour for the past 118 years, has developed a mighty loyal reputation.
The gourmet magazine Saveur told readers in 1998 that "Hudson Cream is not a blend of hard and soft wheat flours, as all-purpose flours are, but is made entirely from hard red winter wheat. The result: higher, lighter breads with a rich flavor."
Hudson Cream Flour is all about innovation and creativity.
It's also about a loyal fan base of chefs and cooks that grows exponentially with each generation.
Especially in Stafford County, think about a holiday meal that doesn't somewhere have Hudson Cream Flour included in a couple of the recipes.
But beyond flour, the Hudson mill is also a trendsetter in many other ways.
For example, in 2014, Stafford County Mills installed a wind turbine outside the city limits of Hudson, making it the first commercial flour milling facility in North America to use wind power-generated electricity produced on site.
That kind of innovation really began decades ago.
According to its website, hudsoncream.com, in 1922, "Leila English Reid, who was born and raised in Stafford County, moved to West Virginia." Not happy with the type of flour she found there on grocery shelves, she negotiated to bring a train car shipment of Hudson Cream Flour to West Virginia.
The rest is history because now, a majority of Hudson Cream Flour still sells and is popular on the East Coast.
"Why it has survived, I think, goes to two things: number one, it is a premium product on the market, and it's allowed us to keep a market share when a lot of people sold out.," said Derek Foote, who is in management at the mill's corporate office in Hudson. "The other is the local community supporting it. When the mill went up for sale, there were local people buying it to keep it local."
That happened in 1986 when, the Krug family – the original owners of the mill -were ready to retire and looking to sell the Stafford County Flour Mills. Fearing it might mean a loss for the local economy, several area residents pooled their resources to buy the flour mill and keep the company local.
The end results is that the flour and other products are now shipped to 41 states, Foote said.
"Not all that's in our bags, nor the Hudson Cream Flour or Stafford County Flour Mills label," he said. "Most of our label goes either in the Midwest or back to the Appalachian states."
In addition, the Stafford County Mills supplies the public schools in Hawaii with flour, and product for kosher companies in New York and Chicago.
When the mills are running, 400,000 pounds of flour can be turned out in a day, Foote said.
"A lot of it is the quality of the product," Foote said. "I think that's the biggest thing is that we have kind of a cult-like following, especially back in the Appalachian states because of its short patent flour. Basically, it's how we refine it. We pull a lot of the clear flour, the heavy stuff off. And so, what we are left with is just the heart – a flour that is smother, softer. That's why the cream is in the name. Big mills can't do that — or they don't do it so much. It allows us to make more of a premium product that differentiates ourselves. We have been able to sell to niche markets.
"We are about the only one (in the nation) that does it with winter wheat – that's the key part."
In recent years, the mill has also substantially grown a market for organic flour.
"We actually do a pretty good volume of it," Foote said. "It's not grown around here as much and not as much of it is sold around here – but that product goes more to the east coast and to places like Denver and Austin. We do a significant volume, and it just keeps increasing."
Not bad for a flour mill where the majority of its wheat is grown within 26 miles of Hudson.
https://staffordecodevo.com/wp-content/uploads/2023/11/hudson-cream-flour.png
225
225
staffordecodevo
https://staffordecodevo.com/wp-content/uploads/2021/03/Logo-Light-Green-3-Copy-2-300x76.png
staffordecodevo
2023-11-13 19:15:31
2023-11-13 22:10:25
Hudson Cream Flour specializes in quality flour, tradition and plenty of innovation